Göttingen Campus Postdoc Committee: Mitglieder gesucht / call for new members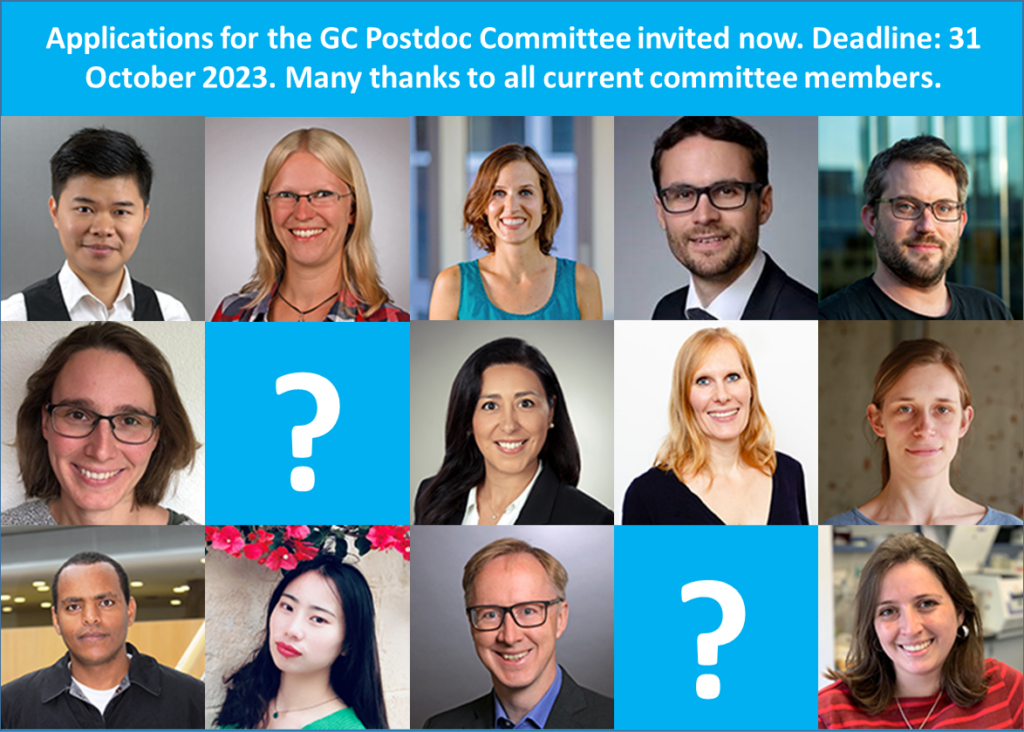 Das Postdoc Committee des Göttingen Campus (GC), das die Arbeit des GC Postdoc-Netzwerks leitet, sucht neue Mitglieder. Als Mitglied lernen Sie andere Postdocs kennen, sammeln Erfahrungen in der Ausschussarbeit und erhalten einen Einblick in die Arbeitsweise großer Organisationen. Und das Wichtigste: Sie können den Göttingen Campus zu einem besseren Ort für Forscher*innen machen.
Wenn Sie Teil der Postdoc-Gemeinschaft in Göttingen sind und vor allem, wenn Ihre Perspektive derzeit nicht von den Mitgliedern vertreten wird, warum bewerben Sie sich nicht, um dem Team beizutreten und Ihrer Stimme Gehör zu verschaffen? Insbesondere werden Bewerbungen von deutschsprachigen Postdocs erbeten, die über das deutsche System gekommen sind (ab Abschluss).
Die Bewerbung ist schnell und einfach, die Frist endet am 31. Oktober 2023. Weitere Informationen finden Sie unter https://goettingen-campus.de/postdoc-committee. Wenn Sie Fragen haben, wenden Sie sich bitte an die derzeitigen Mitglieder des Committees oder schreiben Sie eine E-Mail an die Koordinatorin des GC Postdoc Networks: melissa.sollich@uni-goettingen.de.
---
The Göttingen Campus (GC) Postdoc Committee, which guides the work of the GC Postdoc Network, is recruiting to its friendly committee. As a member, you'll get to meet other postdocs, get experience of committee work, and gain an understanding of how large organisations work. Most importantly: you'll get to make the Göttingen Campus a better place for researchers.
If you're part of the postdoc community in Göttingen and especially if your perspective is currently not represented by the membership, why not apply to join the team and make your voice heard? Application is quick and easy, thedeadline is 31 October 2023, and further information is here: https://goettingen-campus.de/postdoc-committee. If you have queries, feel free to contact current members of the committee or email the GC Postdoc Network coordinator: melissa.sollich@uni-goettingen.de.