Liebe Beschäftigte der Universität, liebe Studierende,
im heutigen Newsletter möchte ich Ihr Augenmerk auf unsere Europäische Universitätsallianz Enlight lenken, in der wir nun schon seit 2021 aktiv sind. Das Netzwerk hat unter der Federführung von Prof. Dr. Hiltraud Casper-Hehne einen weiteren Antrag erfolgreich über die Zielgerade gebracht: Die EU fördert unseren Zusammenschluss mit neun weiteren europäischen Universitäten – den Universitäten Gent, Groningen, Uppsala und Tartu, der Universität des Baskenlandes, den Universitäten Bordeaux und Galway sowie der Comenius-Universität Bratislava und der Universität Bern – in den kommenden vier Jahren mit insgesamt rund 14,4 Millionen Euro.
Zudem ist mit der Assoziierung der Universität Bern nun auch ein Schweizer Partner im Netzwerk vertreten. Mit der Schwerpunktsetzung auf die Themenfelder Klimawandel, Gesundheit und Wohlbefinden, soziale Ungleichheit, digitale Revolution, Energie und Zirkularität sowie Kultur und Kreativität bietet Enlight ein breites Spektrum an Kooperationsmöglichkeiten in Forschung, Studium und Lehre und fügt sich mühelos in die erst kürzlich vom Senat verabschiedete universitäre Forschungsstrategie ein.
Das Netzwerk bietet einige interessante Instrumente für Forschende, auf die ich gerne ausdrücklich hinweisen möchte. So wurde beispielsweise mit dem Enlight R&I Observatory ein interaktives Portal mit Informationen zu Forschenden, wissenschaftlichen Projekten und Forschungsschwerpunkten der Enlight-Universitäten angelegt, welches Ihnen helfen kann, potenzielle Forschungspartner an unseren Partneruniversitäten zu finden und mögliche Kooperationsfelder auszuloten. Das Toolkit for Researchers bietet Unterstützung bei der Anbahnung von Forschungskooperationen und liefert darüber hinaus Informationen hinsichtlich Möglichkeiten der Antragstellung. Das Doctoral Network bietet Gelegenheit zu Austausch und Vernetzung.
Auch für Studierende hat Enlight einiges zu bieten. So besteht die Möglichkeit, sich mit dem Course Catalogue – einer Plattform, die Veranstaltungen aller Enlight-Universitäten gebündelt darstellt – eines Instrumentes zu bedienen, welches einen einfachen Zugang zu den internationalen Angeboten aus Enlight für Studierende garantiert. Die Säulen der Lehrformate sind im Enlight Competence Framework dargestellt.
Auch die Zukunft hält Spannendes bereit: Im Frühling 2024 wird die Ausschreibung EnlightThematic networks for challenge based knowledge creation erfolgen. Hier sollen Netzwerke aus Partnern von mindestens vier Enlight-Universitäten entstehen, die sich thematisch an den Enlight-Schwerpunkten orientieren. Die Netzwerke können mit jeweils bis zu 200.000 Euro gefördert werden. Ab 2024 unterstützt Enlight darüber hinaus Lehrpersonal bei der Entwicklung und Umsetzung von virtuellen und hybriden Lernkomponenten im Bereich Instructional Design durch die Erarbeitung eines Weiterbildungsprogramms. Durch die Weiterentwicklung und Implementierung eines Interconnected Campus soll es Studierenden möglich werden, sich für Veranstaltungen an den Enlight-Partneruniversitäten anzumelden. Darüber hinaus ist die Einführung einer automatischen Anerkennung der erworbenen ECTS geplant. Enlight hat noch mehr zu bieten. Daher möchte ich Ihnen ans Herz legen, sich in regelmäßigen Abständen auf der Enlight-Homepage über aktuelle Entwicklungen zu informieren oder sich für den Newsletter registrieren zu lassen.
Ihnen allen ein erholsames Wochenende und viele Grüße
Prof. Dr. Bernhard Brümmer
Vizepräsident für Forschung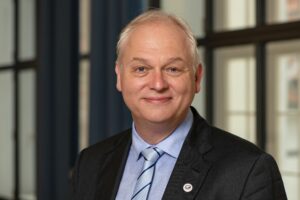 ---
Dear Staff, dear Students,
In today's newsletter I would like to draw your attention to our alliance of European universities, Enlight. We have been an active member of Enlight since 2021. Under the leadership of Professor Hiltraud Casper-Hehne, the Network has successfully brought another application over the finishing line: the EU has agreed funding of around 14.4 million euros over the next four years for our alliance with nine other European universities – the Universities of Ghent, Groningen, Uppsala and Tartu, the University of the Basque Country, the Universities of Bordeaux and Galway, as well as Comenius University Bratislava and the University of Bern.
The addition of the University of Bern means that a Swiss partner is now represented in the Network. With its focus on the topics of climate change, health and well-being, equity, digital revolution, energy and circular economy, as well as culture and creativity, Enlight offers a broad spectrum of opportunities for collaboration in research, teaching and learning, which fits perfectly into the University research strategy recently adopted by our Senate.
The Network offers some interesting tools for researchers, which I would like to explicitly bring to your attention. For example, the Enlight R&I Observatory is an interactive portal with information on researchers, scientific projects and research priorities at the Enlight Universities. This can help you find potential research partners at our partner universities and explore areas for potential collaboration. The Toolkit for Researchers offers support in initiating research collaborations and also provides information on opportunities for submitting proposals. The Doctoral Network offers opportunities for exchange and networking.
Enlight has a lot to offer students as well. For example, the Course Catalogue – a platform that showcases events from all Enlight universities – is a tool that guarantees easy access to the international courses that Enlight has on offer to students. The main pillars of the teaching formats are presented in the Enlight Competence Framework.
There are exciting things in store for the future: in spring 2024, the call for proposals EnlightThematic networks for challenge-based knowledge creation will be issued. Here, networks of partners from at least four Enlight Universities are to be created that are thematically oriented towards the Enlight focus areas. The networks can attract funding of up to 200,000 euros each. From 2024, Enlight will also support teaching staff in the development and implementation of virtual and hybrid learning components in the area of Instructional Design through the development of an advanced training programme. Through the further development and implementation of an Interconnected Campus, students will be able to register for events at Enlight partner universities. In addition, the introduction of automatic recognition of the ECTS earned is planned. And Enlight has even more to offer. Therefore, I would like to encourage you to visit the Enlight homepage at regular intervals to keep up to date with current developments or to register for the Enlight Newsletter.
Please let me wish you a relaxing weekend.
All the best,
Professor Bernhard Brümmer
Vice-President for Research