Protest und Widerstand in der DDR: Adam-von-Trott-Lecture am 27. November 2023 / Protest and resistance in the GDR: Adam von Trott Lecture on 27 November 2023 (in German)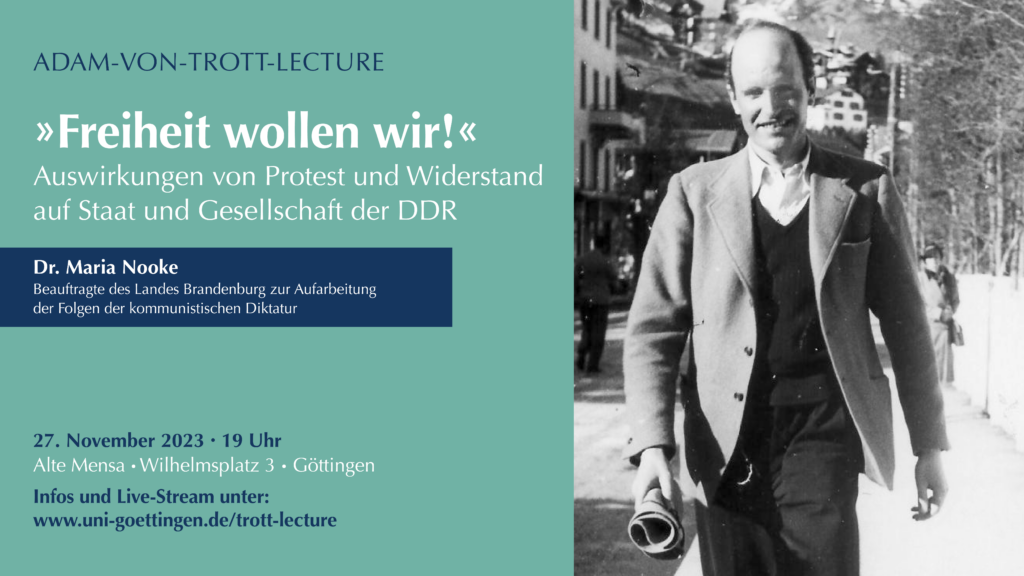 Die Universität lädt herzlich ein zur diesjährigen Adam-von-Trott Lecture am Montag, 27. November 2023. Zum Thema "Freiheit wollen wir! – Auswirkungen von Protest und Widerstand auf Staat und Gesellschaft der DDR" spricht die Beauftragte des Landes Brandenburg zur Aufarbeitung der Folgen der kommunistischen Diktatur, Maria Nooke.
Vor ihrer Beauftragung vom Land Brandenburg war die promovierte Soziologin Nooke stellvertretende Direktorin der Stiftung Mauer Berlin. In den letzten Jahren der DDR war sie umfangreich in der kirchlichen Friedens- und Umweltbewegung engagiert.
Die Adam-von-Trott-Lecture ist eine öffentliche Vortragsreihe in Erinnerung an den Widerstandskämpfer Adam von Trott zu Solz. Sie findet seit 2016 jährlich im Wintersemester statt und ist fester Bestandteil des universitären Gedenkens an ihren Alumnus.
Die Veranstaltung beginnt um 19 Uhr im Adam-von-Trott-Saal in der Alten Mensa, Wilhelmsplatz 3. Eine Teilnahme ist vor Ort und online möglich. Der Link zum Stream wird auf der Webseite veröffentlicht.
www.uni-goettingen.de/de/595479.html
---
Public lecture in German on protest and resistance in the German Democratic Republic. The Adam von Trott Lecture is a public lecture series in memory of the resistance fighter Adam von Trott zu Solz. It takes place annually in the winter semester since 2016 and is an integral part of the university's commemoration of its alumnus. The format was modelled on the established Adam von Trott Memorial Lecture at Mansfield College in Oxford, where the life and work of the resistance fighter has also been commemorated for many years.