"Dr. mobil.": Desing Thinking-Workshop von Alumni Göttingen am 23. Juni 2023 / Design Thinking Workshop by Alumni Göttingen on 23 June 2023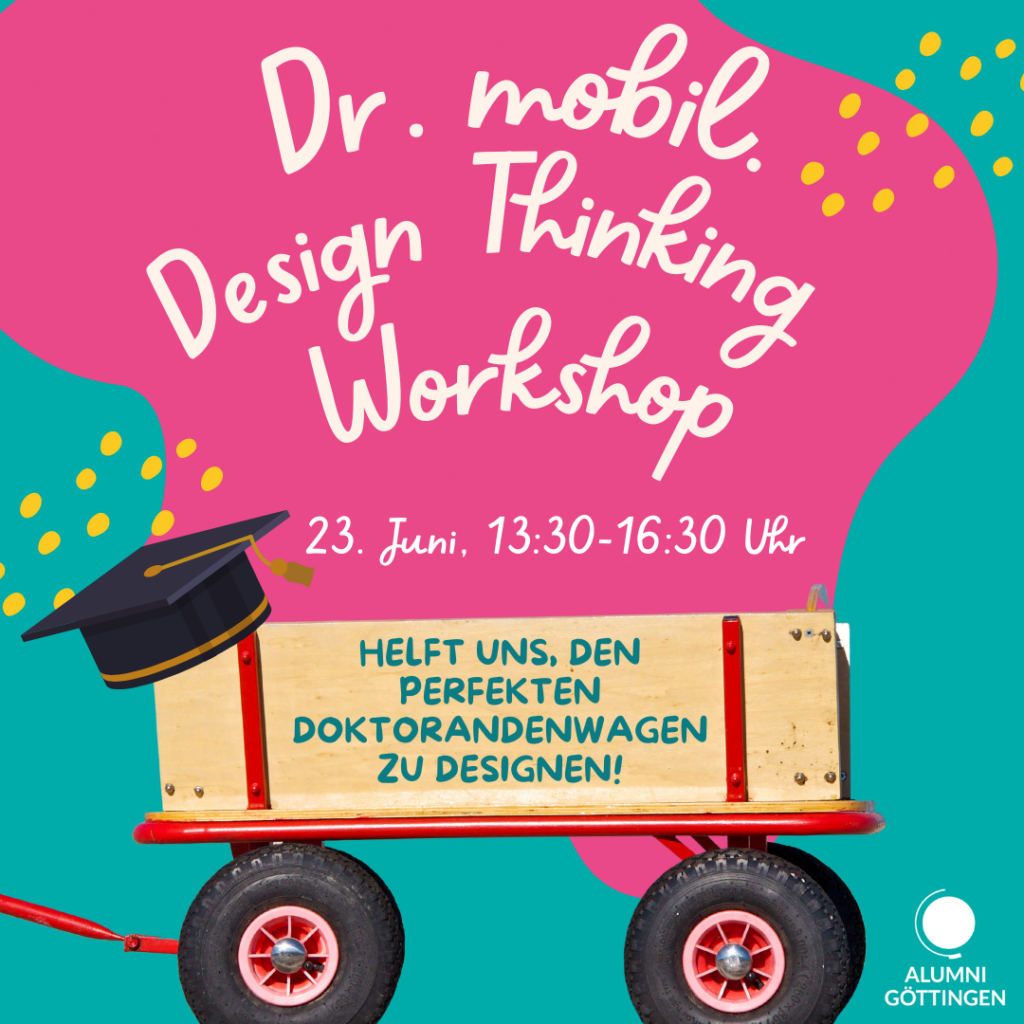 Wer eine Weile in Göttingen gelebt hat, kennt sie: die bunt geschmückten und manchmal recht lautstarken Bollerwagen, in denen frisch examinierte Doktorand*innen durch die Innenstadt zum Marktplatz gezogen werden. Bei einem Design Thinking-Workshop am 23. Juni 2023 können Interessierte einen Prototypen für den idealen Doktorand*innenwagen entwickeln.
Mit dem "Dr. mobil." möchte Alumni Göttingen etwas Schwung in diese alte Tradition bringen. Beim Workshop ist alles erlaubt von sinnlos über spaßig bis hin zu must have. Der Wagen soll später basierend auf dem Prototypen gebaut und verliehen werden.
Für den Workshop, der in Kooperation mit der Gründungsförderung der Universität Göttingen und mit der Techniker Krankenkasse stattfindet, werden zehn Studierende, Promovierende oder Absolvent*innen der Universität mit Lust am gemeinsamen Nachdenken, Gestalten und Basteln gesucht. Technische Fähigkeiten sind immer praktisch, aber kein Muss.
www.alumni-goettingen.de/termine/dr-mobil-design-thinking-workshop/
---
Anyone who has lived in Göttingen for a while knows them: the colorfully decorated and sometimes quite noisy carts in which newly graduated Ph.D. students are pulled through the city center to the market square. At a design thinking workshop on 23 June 2023, interested parties can develop a prototype for the ideal doctoral student trolley.
www.alumni-goettingen.de/termine/dr-mobil-design-thinking-workshop/ (website in German)