Kreativität im Studium / Creativity and Studies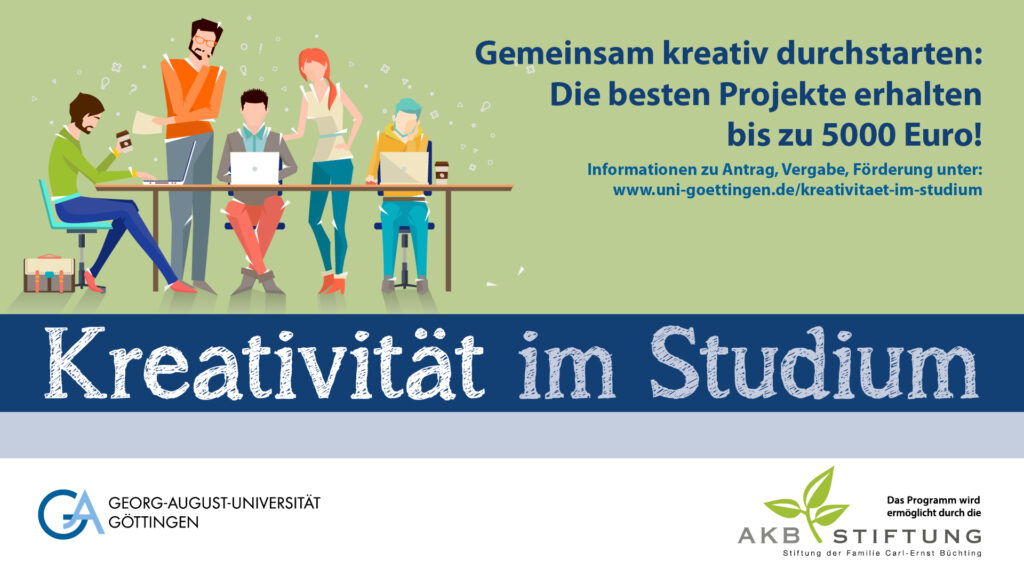 Unser Programm "Kreativität im Studium" wendet sich an alle Studierenden (ausgenommen Promotionsstudierende), die aus ihrem Studium heraus kreative Projekte mit Teamwork-Charakter umsetzen möchten, die über das eigentliche Fach hinausgehen. Die besten Projekte werden mit bis zu 5.000 Euro gefördert.
Das Programm soll engagierten Studierenden die Möglichkeit eröffnen, herausragende Projekte (wie etwa Workshops, Kreativzirkel oder Werkstätten) zu gestalten, um innovative, kreative Prozesse, die auf gesellschaftlicher Ebene eine Wirkung entfalten können, anzustoßen und zu realisieren.
Die Projekte können mit Partner*innen aus anderen Einrichtungen oder Unternehmen sowie in internationaler Zusammenarbeit durchgeführt werden. Das Aufgreifen gesellschaftlich relevanter Fragestellungen ist dabei besonders erwünscht. Die Ausschreibung richtet sich an alle immatrikulierten Studierenden sämtlicher Fachrichtungen; ausgenommen sind Promotionsstudierende. Einsendeschluss ist der 7. Juli 2023.
www.uni-goettingen.de/kreativitaet-im-studium
---
Our programme "Creativity an Studies" aims at all students (except doctoral students) who would like to implement creative projects with teamwork character from their studies that go beyond the actual subject. The best projects are funded with up to 5,000 euros.
The programme is intended to give committed students the opportunity to design outstanding projects (such as workshops, creative circles or workshops) in order to initiate and realise innovative, creative processes that can have an impact on a social level.
The projects can be carried out with partners from other institutions or companies as well as in international cooperation. Addressing socially relevant issues is particularly desirable. The call is open to all enrolled students of all disciplines, with the exception of doctoral students.
The deadline for submissions is 7 July 2023.